How to Cook Pininyahang Manok
posted by: Feby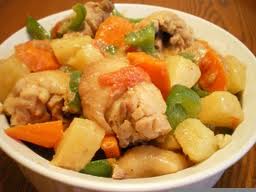 Pineapple is loaded with vitamins and minerals. It's a good source of fiber and vitamin C, too. Pineapple is not only eaten fresh but it can also be used in different dishes. It doesn't only make your dish delicious but it can also fill your recipe with nutrients.
Pininyahang manok is one of the recipes that use pineapple as its main ingredient. This food is usually served during special occasions. Children love this Filipino recipe because it's a bit sweet and creamy. Learning how to cook pininyahang manok is not that hard. You just have to follow simple steps on how to make pininyahang manok (you may refer to the recipe below).
Anyway, here's how to cook pininyahang manok:
Pininyahang Manok Ingredients:
500 grams of pre-cut chicken ( any part will do)
8 oz of pineapple chunks
1 large tomato, sliced
½ cup of red and green bell pepper
1 small carrot, cubed
¼ cup of evaporated milk
3 cloves of garlic, minced
1 small onion, sliced
Fish sauce/salt
Cooking oil
Cooking Procedure:
Before preparing other ingredients, marinate the chicken meat into a non-metallic bowl of pineapple juice for an hour or more. Cover the bowl and set aside.
After marinating the chicken meat, heat a cooking pot, put a little oil. Sauté garlic, onion and tomatoes. Then remove the chicken from the marinade and put the chicken into the pot. Cook the chicken until the meat is slightly brown.
This time, you may add the evaporated milk and the pineapple juice marinade. Let it boil in medium heat until the meat is almost tender.
Put the carrots and pineapple chunks. Simmer for minutes until the sauce is half of the original volume. This will take you about 15 minutes or more.
Next, add bell pepper and fish sauce to taste. Simmer for few minutes.
Finally, turn the stove off and transfer the food to a serving bowl or dish.
Serve with steamed rice.
The steps and ingredients on how to cook pininyahang manok are real simple and easy to prepare. This is indeed another lutong pinoy that you can add on your menu list.
You might also like
How to Cook Hamonado
Hey, are you already excited for the Christmas season?  September has already passed and sooner, you'll...

How to Cook Adobong Manok
You are not a full-blooded Filipino if you do not know how to eat adobo whether it's pork, chicken...