How to Cook Buttered Chicken
posted by: Feby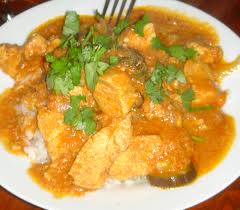 Buttered Chicken recipe is widely known as Indian recipe. It is characterized as hot and spicy- these are the things you expect when you are dining at an Indian restaurant. It differs from buttered fried chicken, but it looks a bit like chicken curry.
This recipe is not just available in Indian restaurants or inIndiabecause you make you own version at home in thePhilippinesand cook in Filipino style. This is easy to prepare and cook even if it's an international dish. In this article, I will guide you on how to cook buttered chicken. Take it easy on reading the steps and guidelines on how to make this dish for you to come up with the perfect version of this.
So here's how to cook buttered chicken:
INGREDIENTS:
500 grams of chicken breast
¼  teaspoon of 5 spices
1 tablespoon juice of lime
1 teaspoon of chili powder
½ cup of yogurt ( fresh not sour)
1 large onion, sliced
1 teaspoon of garlic paste
1 teaspoon of ginger paste
1 teaspoon of coriander powder
½ teaspoon of cumin powder
¼ teaspoon of turmeric powder
1 tablespoon of dried fenugreek leaves
1 ½ table spoon of soft butter
1 pouch of tomato paste
2 cups of chicken stock
Salt to taste
COOKING PROCEDURE:
In a non metallic bowl, put the chicken breast, lime juice, salt and chili powder. Mix the ingredients well, cover the bowl and marinate for an hour.
Heat deep pan, put oil and sauté onion until golden brown. Add garlic and ginger paste. Then put the marinated chicken, stir fry until the chicken is a bit cook.
Add the chicken stock, tomato paste, cumin, turmeric, fenugreek leaves, 5 spices and coriander. You may put the yogurt too. Let it boil.
Simmer the sauce until the chicken is tender.
In another pan, melt butter and pour it in the chicken in sauce. Stir for few seconds and simmer for few minutes.
Turn off the heat and serve with rice.
The cooking steps are really easy, so you can follow them with ease. The ingredients also are available here in the Philippines in big supermarkets nationwide. So, you don't need to go to India to taste this Indian inspired dish.
You may save the trip to India by just printing this out, grab your apron and start cooking!
You might also like
How to Cook Chicken Fillet
What is so special about chicken meat? Maybe you are one of those people who ask this question when you...

How to Cook Chicken Curry
Chicken curry is one dish I didn't want to taste before, for I'm not fond of eating food with coconut...