How to Cook Goat Meat – Kalderetang Kambing Recipe
posted by: Feby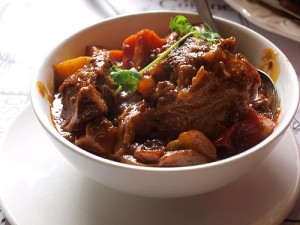 I grew up in a family where goat meat is always present on special occasions. Goat meat is much tastier and healthier compared to other red meat. Goat meat is also known as chevon in most countries. It is known as kambing in thePhilippines.
There are so many ways on how to cook goat meat. In thePhilippines, Filipino recipes or dishes that are known are kalderetang kambing (stewed goat meat in tomato sauce), papaitan, kilawin, adobong kambing, lechong kambing and chevon curry. These recipes are cooked in a slow cooker at a low temperature to make the meat more tender and tastier.
Anyway, in this article I will share my all time favorite recipe of goat meat and that is kalderetang kambing. Let's all learn how to cook goat meat deliciously and easily.
Kalderetang Kambing (Stewed Chevon in Tomato Sauce- Filipino Style)
Ingredients:
500 grams of goat meat , cut into serving size
5 cloves of garlic, minced
1 onion, minced
1 large potato, cubed
1 medium sized carrot, cubed
2 medium sized bell pepper ( red or green) sliced
3 tablespoons of liver spread
2-3 cayenne pepper or chili pepper, sliced
½ cup of tomato sauce or tomato paste
¼ cup of white vinegar
Cooking oil
Water
Salt and pepper
Cooking Tips and Procedure:
Before cooking the meat, marinate it first to a mixture of vinegar, salt and pepper for one hour or more. This will help remove the gamey odor or taste of the goat meat. Remove from the marinade and set aside.
In a cooking pot, sauté garlic and onion in a cooking oil. Then add the goat meat and continue to cook until the meat turns light brown. Pour in the tomato sauce, chili and water. Bring to boil and simmer until almost tender.
Next, add the potatoes and carrots. Simmer for few minutes and add the liver spread. Stir well to blend the liver spread.
Put bell pepper and simmer for few seconds. You may add salt and pepper to season it.
Serve with rice or beer.
Kaldereta or Calderetang Kambing is so special because the meat is a lot expensive than pork, beef and chicken. It is also healthier, leaner and tastier. This lutong pinoy or food  is something you need to try.
You might also like
How to Cook Chicken Fillet
What is so special about chicken meat? Maybe you are one of those people who ask this question when you...