How to Cook Adobong Kambing – Adobong Kambing Recipe / Ingredients
posted by: Feby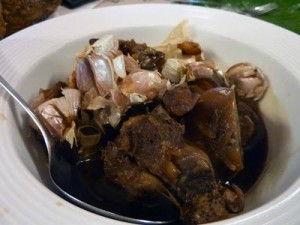 Are you looking for the best appetizer (pulutan) in town? If you are tired of pairing your beer with peanuts and other dishes, then it is time for a new appetizer to make your happy hour more fun. I'm not promoting any vices here folks, just suggesting something to pair your usual beer during special occasions.
Anyway, goat meat or kambing used in different dishes is getting more popularity in any country nowadays because its' healthier and tastier compared to other meat. However, not all of us want goat meat or chevon because of its distinct smell. With regard to the smell, there are so many ways to lessen it and so you can enjoy goat meat dishes.
In the Philippines, Filipinos love to eat goat meat and in fact there are many recipes they can do with it like papaitan, caldereta, kilawin and adobo. In this article, I will share how to cook Adobong kambing the simplest way and how to make adobong kambing less smelly.
How to Cook Adobong Kambing
Ingredients:
500 grams of goat meat or kambing ( cut into serving size)
2 large potatoes, cubed
1 large carrot, cubed
2 banana pepper ( siling mahaba)
2-3 chilli pepper ( siling labuyo)
2 tablespoons of ginger
1 large onion
5 cloves of garlic
½ teaspoon of peppercorn
5 pieces of bay leaves ( laurel)
¼ cup of soy sauce
¼ cup of vinegar
Water
Cooking oil
Cooking Procedure:
Heat cooking pot; put cooking oil in it and sauté onion, garlic and ginger until golden brown.
Then, put the goat meat. Stir until the meat changed color.  Add soy sauce, vinegar, pepper corn, bay leaves and water. Bring to boil and simmer until the goat meat is almost tender.
Next, add potatoes and carrots. Put the chilli and banana pepper. Cook for few minutes. Don't overcook the vegetables.
Finally, you may add salt to taste. Remove from heat and transfer it into a clean serving plate. Serve with beer or steamed rice.
Ginger will lessen the smell of goat meat. You can also soak the meat with vinegar and rinse before cooking it. The goat meat will take you more time to make it tender, so you can use a pressure cooker or simply use a slow cooker pot.
You might also like
How to Cook Adobong Manok
You are not a full-blooded Filipino if you do not know how to eat adobo whether it's pork, chicken...

How to Cook Adobong Baboy
Filipinos are fond of discovering new dishes, adapting and creating variations to every recipe. That...