Security Certificate Error While Opening Gmail & Other Websites
posted by: Dennis Aguilar
Just a while ago i experienced Security Certificate Error while opening my Gmail Email Account.  I also tried opening my Google Webmasters Tool website but i was still getting the same Security Certificate Error. I thought there was really just some problems with the website, but when tried opening it in my other laptop the two websites were working well. I was using Google Chrome, so here was the error that i encountered "The server's Security Certificate is not yet valid".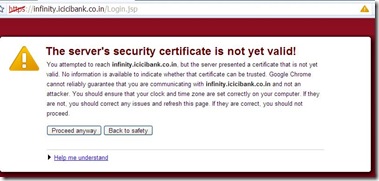 Here are the same exact errors for Microsoft Internet Explorer and Mozilla Firefox:
Internet Explorer = "There is a problem with this web site  Security Certificate"
Mozilla Firefox = "Secure Connection Failed"
How I Fix the Security Certificate Error Problem?
I just found out that my computer's date and time was reset to default factory setting, when i changed it to the current date and time that fixed the problem. The problem was the Security Certificate has expired because the date and time was changed.  Seems like i need to change my motherboard's CMOS battery.
So, when you encounter the same error, just check your date & time settings.
Hope this helps…
You might also like
How To Get A Korean Visa
South Korea is in Eastern Asia . It is one of the  Asian countries who required Visa to Filipinos...