How to Delete a Facebook Account Permanently
posted by: Rio Dianne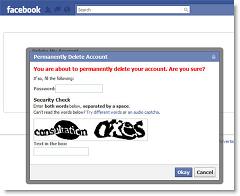 For some people, Facebook has used to be so much fun when it comes to interacting with friends. However, because the team has been strutting their way to go about improving this largest networking site especially the FB Chat, many people have only turned sour regarding its use. Therefore, these people wish to delete their account.
Do you have the same relationship with Facebook? Are you among the other people who are trying to find out how to go about deleting your account? You've come to the right post then as we'll tell you how to delete a Facebook account permanently. The answers? Find them out below.
How Do You Delete Your Facebook Account Temporarily
Deactivating your account is only a temporary measure on how to steer clear of FB. However, this is not synonymous to account deletion since you are merely disabling your account and yet your data will still exist. Your friends can still send you invitations and can send you messages. It might be pretty worthless. But to this, just follow the steps below:
Log into your account.
Once you've logged in, click on the drop down arrow next to the HOME button. Click the ACCOUNT SETTINGS.
In the account settings, select the SECURITY tab on the upper left side of the page. You will see the DEACTIVATE YOUR ACCOUNT button and click on it.
You will be prompted via e-mail that you've deactivated your FB account.
So you got your FB deactivation now. Although your friends may not see you on their list, you can still reactivate your account by logging in with your username and password.
How Can You Delete Your FB Account Forever
Because the deactivation thingy seems useless, a permanent and easy way on how to remove your account from the Facebook servers is to do the following:
Log into your account.
Hit the submit button and you will be asked to key in your password and security check.
Click Okay.
Voila, you've requested the Facebook team to have your account deleted permanently. However, you have to wait for 14 days before it becomes effective. Therefore, in that span of two weeks, you should not log into your account to permanently remove everything about your profile. You may opt to clear any browsing history wherein you may accidentally log in to your FB page.
Whatever your reasons are for immediately deleting your account wouldn't be our concern anymore. But we hope that you've found easy steps on how you can delete your Facebook account permanently.
You might also like