How to Remove Eyeliner without Make up Remover
posted by: Rio Dianne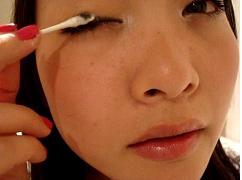 For an added drama to their eyes, most girls apply eyeliner. And apparently, there are several hues of eyeliner available for their use as well as different types to choose from – powder-based, wax-based, and liquid eyeliner. While eyeliners can help bring out a sultry effect into your lovely eyes, failing to remove them in the right way especially when you don't have make up remover thus resulting to eyeliner smudges can make you end up looking like a damsel in distress. This may be funny, but you wouldn't want to end up being a laughing stock, right? Hmm, how to remove eyeliner without make up remover, you ask? Follow our suggestion without creating quite fuzz.
Tips for Removing Eye Liner and Make Up
When you've tried soap and water already and yet it didn't help a bit in removing your eyeliner, here are some you can do:
Vaseline – This petroleum jelly is known to work well in mending the issue. With a small amount on a Q-tip, apply it carefully on the eyelid and make sure that it doesn't get in your eye. It may be a little weird having jelly on your eyes, but it definitely work well in eliminating and preventing smudges.
Sorbolene Cream – This is a moisturizing face cream which is also a reliable intervention for your query. Not only does it get rid of your eyeliner, but it prevents your skin from drying as well. Apply a small amount on a cotton swab or cotton ball to help for removal.
Baby Oil – It is another remedy known to work wonders. With cotton swab, it will definitely come right off. Olive oil is an alternative.
Your quest ends when you follow our abovementioned remedies on how to remove eyeliner without make up remover. Therefore, get that smoky effect with your favorite eyeliner and never worry if it's going to get right off because you just have the best interventions on how to remove it afterwards. Enjoy!
You might also like