How to Apply Makeup Properly – Step by Step
posted by: Gretchen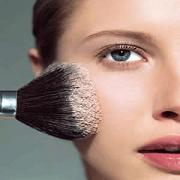 Ladies are vain in nature.  They put on makeup and they are updated in fashion. They wear accessories and stylish clothes to make their appearance even more attractive.  However, not everyone knows the art of applying make-up. In this post, we'll talk about the steps to apply cosmetics properly.
Step by Step Makeup Application
It all starts with the right foundation. When I say right foundation, it should create an illusion that you have flawless skin whether you have dark or fair skin. It should fit like a second skin.  Applying foundation is a way of hiding the imperfections of your skin.
Apply the foundation all over your face but it should not make your skin looking orange, pink, or ashy.  It should give you the natural look since it only functions as a primer to your face. Try Forever foundation.
Since most women have yellow based skin a yellow-based foundation is recommended to have the flawless and natural skin. Avoid using a foundation with orange and pink tone.
When you apply foundation, work from the face outwards.
Apply blush and blend.  Use powder blushes for an easier application. Smile and touch the brush on the cheek and brush it toward the corner of the eye.
Apply eyeliner (pencil, brush, or liquid). If you use a pencil eyeliner set the line with eyeshadow.  For a liquid liner, line the eye from the inside of the lashes outward.
Put on mascara to eyelashes.
Use a fat brown pencil for the brow bone and blend.
Apply your lipstick.  Use liner first as a base before you put on your lipstick.  Do not use a dark lip liner with a light lipstick.
Put on loose powder on your nose and t-zone.
Eyeshadow for your Eye Color
Brown eyes: shades of blue, plum, and blue gray
Green eyes: brown, purple, apricot, forest green, or deep khaki
Blue eyes: gray, violet, taupe, deep blue
All eyes: navy or charcoal
For special occasions like prom and wedding, a professional make-up artist is still the best for everyone.  He/She knows well what to do with a round face or any other shapes.  He/She can make your costume complement to your make-up.  Try Style File.  Do not try to experiment on your face if you want to look stunning on a big event.
You might also like