How to Make Nail Polish Remover at Home
posted by: Gretchen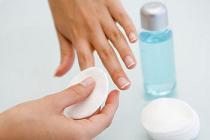 Having bright fingernails and toenails gives delight to most women.  They are really careful with their nails to prevent them from scratches.  To make it even more ornamental, we now have nail art. Now you can also have different designs on your nails.  People become more and more artistic these days.  However, the beauty of the nail polish odes not last for long.  It becomes pain in the eyes and you just want to take it off.
The most common method of nail polish removal is the use of acetone. However, if you want to use non-acetone products to take it off, you can make your own nail polish remover at home.  There are alternative methods that you can try.
Alternative Nail Polish Remover at Home
You may have heard it before that applying another coat of nail polish can help you remove the old one.  Right after applying it, scrape it off with a cotton ball or a piece of cloth.  Do it one finger at a time.  However, you cannot get a very good result.  Expect marks on your cuticle.
If you have paint thinner, pour some amount on your nails and let the polish fade away.  The downside is it can dehydrate the skin because of the harmful ingredients.
Perfume can also be used as a substitute for acetone because of the ethyl acetate content. Spray some amount on a cotton swab and apply to your nails.
You can also use peel-off.
Another way that you can try is to put tape on your nails and rip it off after a few seconds.
I really hope that these acetone substitutes work well in removing.  Keep your nail polish remover out of children reach because drinking them is hazardous.
You might also like
How to Treat Dead Nail
Nail fungus, be it on the finger or the toe, can be embarrassing, but more than that, it can give the...