Nail Products for Peeling Nails
posted by: Rio Dianne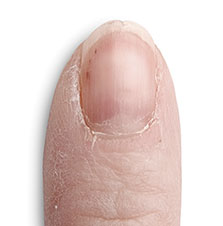 Have you noticed that your nail tips on your fingernails or toenails are suddenly splitting and peeling even before they grow?  Then probably you are experiencing problems with them.  Apparently, there are lots of factors why peeling nails happen.  The condition where your fingernails peel prematurely and leaves you with brittle nails is called onycholysis.  Suddenly felt panicky?  Oh, don't be as this can be handled easily through proper care as well as other measures on how to prevent your nail to separate from the fingers.
If you're looking fro remedies that will help you with this issue, then you need to focus on your diet. Your diet plays a role as to why they are unhealthy.  Lack of protein and vitamin deficiencies are some of the culprits why that happen. You can also blame your general health as well as environmental factors and overexposure to water why it break off easily.
If you want instant remedies for this, then we suggest you to try some products. These supplies, just like beauty products, will help you manage your issue about the peeling nails thingy.
Nail Products for Peeling Nails
OPI Envy – This is a clear polish that you will apply daily for a week to harden nail protein.
Kiss Products – They offer products which include acrylic systems which aids in making your fingernails healthier
Sally Hansen's "Hard as Nails" – This can be use as top coat or base coat which helps build up weak fingernails.
Essie 3-Way Glaze
Barielle Rebuilding Protein
Santé Hardeners
Mavala Scientifique Hardener
Revlon Calcium Gel Hardener
Manicare Nail Polish Intensive Hardener
Backscratchers Nail Products
Those are just some products that will help you win the battle against peeling nails.  These days when the habit of being vain and creative are airbrushing, there isn't any room for issues like brittle nails.  So say goodbye to you peeling nails and embrace your healthy and well-manicured fingertips.
You might also like
How to Treat Dead Nail
Nail fungus, be it on the finger or the toe, can be embarrassing, but more than that, it can give the...