How to Remove Acrylic Nails Without Acetone
posted by: Gretchen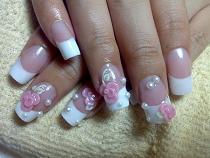 For those who cannot grow their nails long naturally, their option is to go for fake nails like solar and acrylic nails.  Most women choose acrylic among other artificial nails.  These even look better than natural nails especially when the have French manicure.  You just have to put them properly to make them look good.  Acrylic nails really look great when they're first done, but over time they become discolored.  Silk nails become dingy.  When this happens you will want to get rid of them but you want to avoid the hassle of soaking them in acetone.  Now you want to take them off without the use of acetone or hexane.
There are of course other ways to remove them.  You don't have to harm your nails and skin with acetone although acetone is less harmful compared to methanol which can also remove paint.
How to Remove Acrylic Nails Without Acetone
Go to a salon and ask the assistance of a professional manicurist. The person can surely find painless and safe ways to remove them because she has had trainings for nail care.
If you want to save money you can also take them off by yourself using dental floss.  How?  Slowly wedge the dental floss in between the acrylic and the natural nail. Work the dental floss forward and try to pop off the acrylic overlay.  It can be painful especially when the acrylic are tightly stuck to your natural nails.
You can also use an acrylic clipper to cut down the artificial down.
There are products which are acetone-free lacquer removers.  Soak your nails in the solution to remove the fake-nails easily.
You can also dip your fingernails to alcohol with ethanol.
How to apply acrylic is not a big problem but how to take them off.  To avoid hassles, just let a trained and experienced manicurist do it for you.
You might also like