How to Apply Eyeshadow for Brown Eyes
posted by: Rio Dianne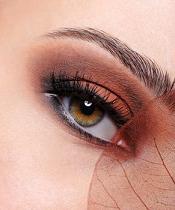 Brown eyes are the most common eye color, and the most versatile.  Women with brown eyes are lucky enough when it comes to what eyeshadow looks best on brown eyes.  There are some colors to stay away from, but still there are a range of eyeshadow shades that they can use to make their eyes eye-catching and accentuate their brown eyes.
For some people putting on eyeshadows can be a very difficult task.  Some have not mastered the correct way of eyeshadow application.  And since putting  it on can make a big difference in the entire face, it is better that one should know how to choose the correct shades of eyeshadows.
Choosing Eyeshadow Colors
Your eye color and your skin tone are the two factors to consider when choosing the correct eyeshadow colors.  Learning how to choose the correct shade will definitely let you stand out.  See the list below when choosing the correct eyeshadow color.
Brown: can wear any color ranging from shades of blue, plum, purple, rosy pink, etc.
Dark brown and black: brown and charcoal shadows
Green and Hazel: brown shades, soft peaches, and deep purples
Blue: soft browns, tans, and soft peaches
Grey: cool brown, charcoal, and purple
More or less, you now have an idea on some eyeshadow secrets in terms of what color to put.  Okay, so in this post, we will focus on brown eyes since that is  the most typical eye color.  Heres how to apply.  Read on.
Applying Eyeshadow :

To start off, apply concealer to the under-eye area so the dark circles will be covered up.  Blend the concealer evenly for best results.
Now, we have to make your those eyes pop.  To do this, brush on the light peach eyeshadow starting from the brow line to the lash line.  The  serves as the base shadow.
Again, brown eyes can use nearly every shade.  Choose any color of  that you like.  Make sure that you also base it on your skin color as well as your mood for that day.
Sweep your chosen  color in the entire eyelid except for the brow bone area.
Apply the darker eye shadow in the crease of your eyes.  Sweep it to your eyes as close to the lash line.  Your brown color of  eyes, when lined with a darker shadow, will definitely let them stand out and look bigger.
When applying eye make-up for brown eyes, you can also choose dark eyeliner that best matches your eye shadow together with mascara and eye-shimmer.
Hope  this has helped you.
You might also like
How to Cure Watery Eyes
Oftentimes, eyes become watery due to allergy and common colds. It can also be a result of epiphora or...