How to Prevent White Hair at Young Age
posted by: Rio Dianne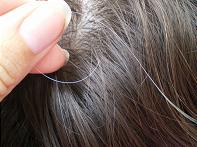 Does it bug you to see that at a young age, you can already see white hair growing?  This scenario has already been common to a lot of people, but given the chance they wish to avoid this from happening.  It's sure that the person affected like to know how to stop having premature gray hair at a young age.  Wondering how to prevent it at a young age?  Then continue reading on as we'll give you some ways and tips on how to avoid graying of hair with the use of home remedies and other treatment.
White Hair Prevention at Young Age
Although, having white hair at a young age is often associated to genetics, there are some ways you can do that can avoid it at a young age.
Consume a healthy and well balanced diet.  There a lot of natural foods that prevent premature graying.  Poor nutrition increases the incidence of having white hair.  Moreover, include Indian Gooseberry in your diet.
Be free form excessive stress as it can worsen premature white and gray hair.  Promote relaxation techniques by doing some breathing exercises when under a stressful situation.
Take vitamins that prevent untimely whitening such as Vitamin B12 supplements.  These can also be gotten from food sources including meat, eggs, and dairy products.
Prevention can be through cutting down your bad habits such as smoking. Smoking speeds up the aging process by increasing the likelihood of getting premature hair. Moreover, it makes a person susceptible to aging problems like wrinkles and dry skin as well as a lot of respiratory disorders.
Boil some curry leaves in coconut oil and once it has cooled, massage it on the scalp.
Other few home remedies which you can try include massaging your scalp with Rosemary oil which can be done once a week.
You can also opt to color it temporarily including henna application which is much safer compared to other chemical dyes which could cause damage.
Employ some of these tips on how to prevent this at a young age and achieve your desire on how to avoid it.  In cases when you give up treating it, why not make the best out of it and just flaunt your white hair?
You might also like
How to Treat White Hair
White hair is a sign of old age.   For some, it is really an evidence that they are ageing and you can...