Josephine Aton Singing "I Believe" on Pilipinas Got Talent
posted by: Dennis Aguilar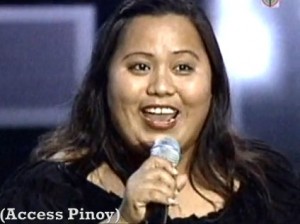 Recently We were surprised by a 16 year old jovit baldivino from Batangas who auditioned in Pilipinas Got Talent,  if you want to download his MP3 click here.
Here's another one, meet Josephine Aton from Cebu, a 32 year-old single mom who also auditioned in Pilipinas Got Talent and stunned everyone.
Like Jovit Baldivino, Josephine Aton surprised the viewers when she sang the song "I Believe".  Who would have thought that a 256 pounds Josephine Aton who seems to have her vocal cords surrounded by huge amount of fatty tissue can sing that well.  Everyone was amazed.  Josephine Aton's talent in singing is astounding.  Compliment by Ai-Ai after her audition, "pang-intenational ang voice mo".  Josephine Aton's I BELIEVE Youtube Video got 16,300 view after only 24 hours when it was first uploaded making it one of the Youtube hit for Pilipinas Got Talent.
Josephine Aton would have become a famous singer here in the Philippines or even International if only her father didn't discourage her when she was a child.  Josephine mentioned in the youtube video that her father kept on discouraging her when she wanted to join in the singing contest when she was a child.  And so, she decided to just hid her talent and stop in singing.  Her father should stop discouraging  instead help her to pursue her dream.
Watch youtube video I BELIEVE by Josephine Aton on Pilipinas Got Talent:
You might also like
Videoke Sing-along
A lot of people likes singing as much as they like music. People enjoys singing in karaoke/ videoke....