Jovit Baldivino on Pilipinas Got Talent – Download Faithfully MP3 by Jovit
posted by: Dennis Aguilar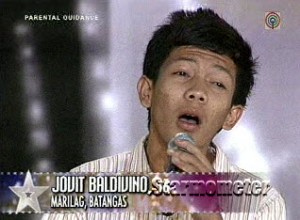 Jovit Baldivino – a 16 year old boy from Batangas stunned Ai Ai and Kris Aquino when he sang "Faithfully by Journey" in abs-cbn show's Pilipinas Got Talent.  Personally, i think he sang the song Faithfully better than Arnel Pineda and if only Ai-Ai was not singing with Jovit Baldivino, I think,i would have  downloaded his mp3 and played it over and over again in my mp3 player.
J0vit Baldivino's youtube video, by the time of this post has already gotten 800,000 views and its only been 6 days.  Bon J0vit's, im sorry i mean Jovit Baldivino's Fan Page in Facebook already has 13,000 members who have joined the club and this Fan Page was just created at the time when the youtube video was posted.
Jovit Baldivino's popularity can be compared to Susan Boyle of Britain's  Got Talent who also stunned Simon Cowell, Amanda Holden and all of the audience with her beautiful voice and got lots of views in youtube video in just a few days.
Watch the video below and see how Jovit compels Ai Ai and Kris Aquino to tears.  If you want to download Faithfully MP3 by J0vit,  just click here.
You might also like