New Pinay Singing Sensation Alisah Bonaobra Sings Let It Go (Frozen) Video
posted by: Dennis Aguilar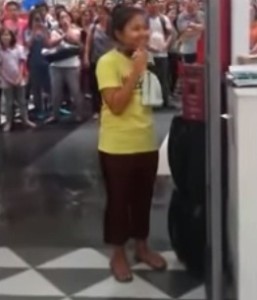 The video of a 19 year-old Alisah Bonaobra who sung "Let it Go" from the movie Frozen is now getting viral on Social Media Sites like facebook.
The girl attracted a lot of attention in the Mall including the foreigner namelyHenrik who was really amazed and posted the video on the youtube.
The girl was really effortless and really has a beautiful voice and has great control of her voice.
The uploader of the video quoted, " If there are any record company with a littel respect for talent, you schould really get her name in a comtract. I got her cell number 09498412135. She has a fantastic voice and a big tallent for detail in her way of using her voice,"
You might also like