Blind Filipina (Joyce Jimenes) Sings Miley Cyrus Wrecking Ball, Goes Viral on Youtube
posted by: Dennis Aguilar
Though a little unfortunate because of her eye problem. Thankfully though, this young little girl has an amazing God-given voice. She just sung one of the hit song
of Miley Cyrus wrecking ball nicely, effortlessly and I think way better than Miley Cyrus.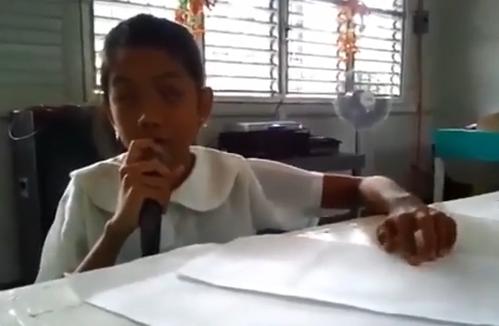 Her name is Joyce Jimenez according to one youtube comment, a grade 5 student from Luzon Governor Generoso, Davao Oriental. And she has been singing since child and most people are always requesting her to sing.
Rheamay James
"Yup.joyce jimenez name nya..my niece..bta pa yan..mahilig na tlaga kumanta..lge nirerequest"
Her video has gone viral on Youtube and now having Thousands of views. On the video Joyce was holding the mic with her right hand and she was like reading the lyrics using her left hand.
Watch her Youtube Video below:

Reading through some comments on youtube I saw this comment:
Joy Di
"Hi ma'am,i've sent a private message on your youtube account regarding joyce jimenez. hoping that you would help us find this angelic girl.. Thanks and God Bless.."
Someone has been looking for her.  Seems Like this little girl is going to be a future star!
What can you say about the young little girl? Leave your comment below.
You might also like