VIRAL VIDEO – Woman Ruthlessly Undressed and Beaten to Death by Legal Wife
posted by: Dennis Aguilar
Two womem were seen fighting in the street of Gongdong, China. In the video, a woman ruthlessly undressed a poor young girl
removing even her underwear.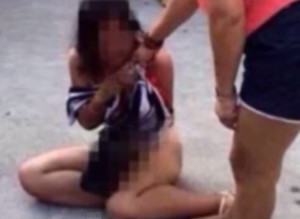 The reason? obviously because of a man. Six months before the incident, a young woman namely Chang (the one being beaten
in the video) met a man who is the husband of Liu. The two quickly fall in love with each other.
Not contented with their relationship. Chang decided to go to the house of the legal wife and ask her to divorce her husband.
Liu (the legal wife) lost her temper and slap Chang on her face. She was so mad that she ruthlessly undressed the poor young lady.
Although there were so many people in the video, they were only watching and doing nothing to stop the fight. They seem to be enjoying the fight.
You might also like