Pinay Caregiver Rose "Osang" Fostanes Gets Standing Ovation on X-Factor Israel (Video)
posted by: Dennis Aguilar
Another Filipina to be proud of. Rose Fostanes a.k.a. Osang from Taguig City wowed the judges and audiece when she sung the song "This is my Life" by Shirley Basseys on the X-Factor Israel which was aired just this Saturday, October 26.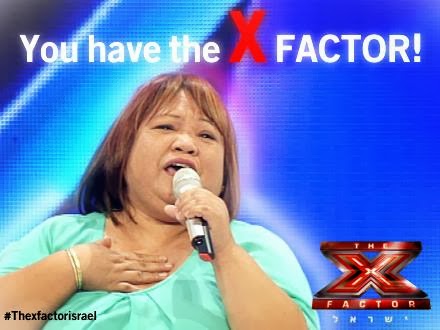 Rose Fostanes lives in Tel Aviv Israel with her 3 other caregiver friends. Still a single and forgot to find a partner in life because she is so focus on helping her family.  She joined the X-factor believing that it might change her life.
"Maybe if I join and win this competition my life will be changed." It may indeed! she said
At first glance, you wouldn't expect too much from her, but when she hit her first note, she just stunned the judges and audience. And you wouldn't believe this, she said this is her first time to sing in front of many people. Wow, really amazing.
Rose received four YESes and compliments from the judges. Judge Shiri Maimon said that it sounded like it is a CD and he can't believe it's her first time to sing in
front of the crowd. Judge Ivri Lider said:
"Rose, take it in because you deserve it so much"
Watch the Video below, "This is my Life" by Rose Osang Fostanes

You might also like