World's Tallest Dog Ever
posted by: Rio Dianne
In February 15, 2010, a new top dog has been crowned by the Guinness Book of World Records.  Hailed as the world's tallest dog ever, George, a blue Great Dane from Tucson, Arizona measures in at 1.092 meters (43 inches or 7 feet, 3 inches tall). Also, Giant George weighs at a hefty 245 pounds.   This new king of gigantic canines is actually 100 pounds heavier that the others of the same dog breed.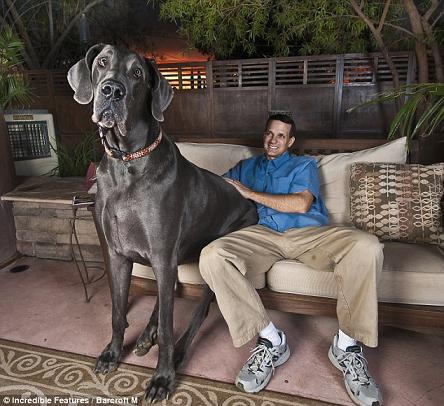 It was noted that in 2009, a four-year old Great Dane from San Diego, California named Titan was the previous record holder of the world's tallest dog ever.  But because of George's 3-quarters of an inch, Titan had to bow down. Titan stands 42.25 inches tall.  Preceding Titan was a Harlequin Great Dane, Gibson of Grass Valley, California who stood at 42.2 inches tall.
Giant George lives with his owner David Nasser. Did you know that his owner has to shell out around $300 monthly? He has to provide George with an enormous 110 pounds of food every week.  This world's tallest living dog ever recorder seems to be living much like royalty.  He even sleeps in his own queen-size bed.  The largest canine is also a big fan of golf carts. Lastly, he's become quite a celebrity, too.  He's even appeared in shows like Oprah and Conan O'Brien's Tonight Show with his master.
For sure, Giant George has become an envy of other pet owners.  But, you, guys need not be dispirited as Craig Glenday of Guinness World Records said that they are actually looking for other record breakers including – the smallest dog, a dog with the longest ears, the oldest dog, as well as the smallest and oldest cat.
Hmmm, did a great interest just spark in your eyes? Good luck!
You might also like
World's Smallest Hotels
If there are hotels that compete for the "world's tallest hotel" and "world's largest hotel"...