Tips for Call Center Interview
posted by: Gretchen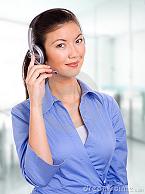 Call center industry has become very popular to many jobseekers nowadays. The compensation is a lot higher compared to other employment opportunities.  Lucky are those who are able to be a part of the growing industry.  For those who also dream of working in a call center, there are things that you need to know to help yourself pass the job interview.
General Knowledge Requirements for a Call Center Job
Basic computer and technological knowledge
Typing ability (over 30 wpm)
Knowledge of telemarketing software applications
Administrative procedures
Information processing
Numeric, oral, and written language applications
Customer practices and procedures
Job Interview Tips
Many interview questions are situational.  You will be given a situation and you will speak about it.  You may also be asked to speak of a stressful situation and how you handled it.  Think of a situation that ended positively and stress out the steps that you have taken to solve or overcome it.
Be confident in giving your responses even if you feel nervous.  Show them that you have good oral and written communication skills.  Maintain a good tone and observe the organization of your ideas.  You can also include the things you learned.
Emphasize your good customer service and problem solving skills to be qualified as a call center agent.  Tell the interviewer that you can stay calm under stress and that you have high tolerance for stress. Anger management is important.
Say that you can be a team player because you will be working with a team. Express you willingness to undergo training.
Frequently Asked Questions (FAQ)
Here are some common call center interview questions:
What does a call center mean to you?
Are you adept with different kinds of software?
What is the importance of teamwork?
What is your philosophy towards work?
Why do you want to work in this organization?
Search for other call center walkthrough and just be confident and honest when applying for any job.  Do not try to cheat.  Good luck!
You might also like