How to Cook Chicken Asado – Chicken Asado Recipe / Ingredients
posted by: Feby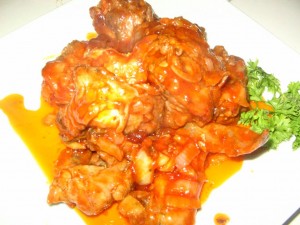 Holidays and special occasions are just the busiest days of our lives, so as much as possible we want to prepare ahead of time to avoid stress when those days come. With regard to the preparation of the event, you have to have a list of all the things you need and also the food that you are going to prepare, so everything would be settled and stress free at the end.
The food and dishes on holidays should be special but easy to prepare to avoid the hassle. If you still need one more Filipino recipe on your menu list, I have a perfect suggestion and that is chicken asado. Chicken asado recipe is so simple to prepare yet has an irresistible taste that is just right for any occasions.
Let's learn how to cook chicken asado and find out why it is so great for any occasion.
Chicken Asado Ingredients
500 grams of chicken ( drumstick or legs)
2 medium sized potatoes
5 tablespoons of calamansi juice
250 grams of tomato paste
3 cloves of garlic, minced
1 large onion, minced
2 pieces if bay leaves (laurel)
50 grams of soft butter
Soy sauce
Pepper
Salt
Cooking oil
Water
Chicken Asado Cooking Procedure
First, marinate chicken with soy sauce, calamansi juice and pepper. Let it stay for an hour or so. After an hour, remove from the marinade. Deep fry the chicken. Set aside.
Next, heat a saucepan; melt butter and sauté garlic and onion until soft. Pour the marinade into it, half cup of water and add tomato paste. Let it boil for few minutes.
Then, put the deep fried chicken and potatoes. Simmer and cook for 10 minutes.
Finally, remove from the heat. Transfer into a serving plate. Serve and enjoy!
You can also make pork asado or beef asado with the same procedure. You can also add sugar to make this Filipino dish kids friendly.
You might also like