Tallest Supermodel in the World – Amazon Eve
posted by: Gretchen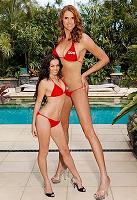 Did you ever wonder who the tallest supermodel in the world is ?  Did you ever think that your favorite model is the tallest?  Well, we do have a female version of Goliath.  You'll be amazed by a woman who proves that women can also conquer men when it comes to height.
How tall is Amazon Eve ?  Let's get to know the world's tallest model.  Take a look at the following facts:
Her name is Amazon Eve.
She is 6'8" tall. She becomes 7 feet tall when she wears her heels.
She is also known as Lanky Yankee.
She is 31 years old.
She said that all the women in her family are tall and that explains why she stands that tall.
This incredible and fascinating tall woman is from Redondo Beach, California.
Her primary work consists of photo sessions with wimps and men.
Prior to her career in modeling, she worked as a paralegal and personal trainer.  She was also a wrestler and was into acting but gave it up after keeping her as a monster or alien in movies.
Isn't she amazing?  One of the downsides of being super tall is she finds it hard to get a boyfriend but she used to date men taller than her.  The shortest man she ever dated was 5'4" tall.
Below is a list of other tall supermodels:
Name  and Their Height
Oluchi Onweagba –  6'1''
Mikayla Miles   –  6'4"
Elle Macpherson –   6'0''
Natalie Mesa – 6'1"
This is all about the largest supermodel in the world.  I hope that you also find her amazing.
You might also like