Scorecards Reversed – Manny Paquiaio vs Mayweather Fight – Pacman should be the Winner
posted by: Dennis Aguilar
This is interesting, Paquiao was the Red corner, Mayweather was the Blue corner, official judges appeared to have given the points to Paquiao yet
result was a reverse, look what is hand written in the bottom of the score card on the right?
For the people who want to know the source of scorecard, its from a newspaper website: https://www.dailymail.co.uk/sport/boxing/article-3065922/Floyd-Mayweather-vs-Manny-Pacquiao-fight-scorecard-Official-round-round-boxing-stats-compared-Jeff-Powell-s-verdict.html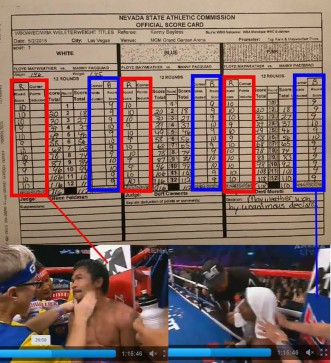 When the scores were read out they gave the high scores to Mayweather – blue corner and declared him the winner, the picture shows the high scores are for the Pacquiao – red corner so what happened? Was he robbed? Please Leave your comment below.
You might also like