Freddie Roach Kicked by Brandon Rios' Trainor Alex Ariza (Fight Video)
posted by: Dennis Aguilar
Coach Freddie was reportedly kicked by Brandon Rios' trainor Alex Ariza who was also Manny Pacquiao 's former strength and conditioning trainor this Wednesday, November 20th in Macao.
According to the report, Freddie Roach came in at the gym at 11 in the morning
and demanded Garcia to leave the gym immediately because supposedly it was
Manny Pacquiao's  time already for the training. Rios' schedule is from 9-11 AM while Manny Pacquiao  starts at 11 AM.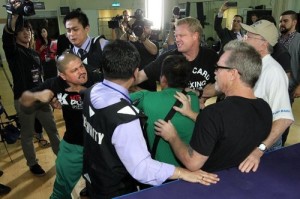 Although Manny Pacquiao hadn't arrived yet at the gym that time, Freddie Roach
was demanding Brandon Rio' camp to leave immediately. Garcia asked for 3 minutes to finish up, but Freddie wouldn't hear of it. So that started the fight with
Alex Ariza reportedly kicking Roach.
Both sides were wrong I think. Freddie Roach should wait a little bit while Alex Ariza shouldn't kicked Roach and mocked his Parkinson. I think this will be a great match up between Manny Pacquiao and Brandon Rios this coming November 23. Surely Manny will take revenge for his coach.
Watch the Fight below and Don't Forget to Leave your Comment Below:
You might also like