Today is the Wedding Day – Ka Freddie Aguilar and his 16-year Old Minor Girlfriend Just Got Married
posted by: Dennis Aguilar
On the interview recently with the legendary singer Mang Freddie Aguilar, he said that he and his 16-year old girlfriend would get married after 2 years or after
his girlfriend turned 18. But it looks like it didn't go according to their plan.
Seems like the two lovers Mang Freddie Aguilar and his minor 16-year old girlfriend are in a hurry now for a wedding coz they just got married today November 22, 2013 in Maguindanao.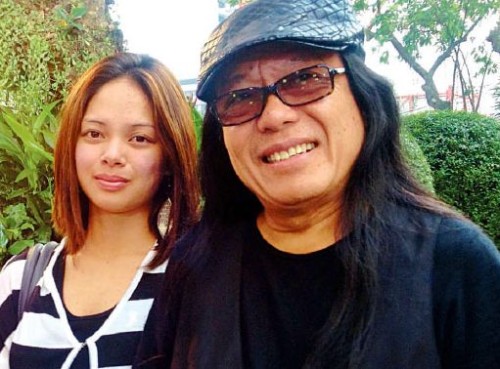 According to the report Ka Freedie Aguilar married Jovie Gatdula under Islamic rites. The wedding was held in Maguindano. Ka Freddie has converted to Islam to be able to marry his minor girlfriend Jovie Gatdula under Presidential Decree 1083 or the Muslim Family Code.
The legendary singer really did what he said on INQUIRER interview last November 2 when he showed desperateness in marrying his minor girlfriend. On the interview he said"
"I'll do whatever it takes even if it would mean converting into Islam"
Under Philippines Law, it is strictly not allowed to marry a minor or under 18 years old but in Muslim Family Code it is different. The Muslim Family Code of Philippines states that:
"Any Muslim male at least 15 years of age and any Muslim female of the age of puberty or upwards and not suffering from any impediment under the provisions of this Code may contract marriage. A female is presumed to have attained puberty upon reaching the age of fifteen."
So ayun, lusot si Ka Freddie. haha, ayos
The wedding was officiated by Maguindanao Governor Esmael Mangudadatu in Buluan at around 3 PM today November 22.
What can you say? Don't forget to leave your comment below
You might also like