Benefits Of Bananas
posted by: ofri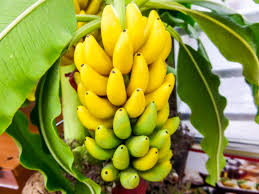 Bananas are sweet and creamy fruits. They grow in tropical places. The Philippines has a wide selections of bananas. While we are accustomed to thinking of  bananas as having yellow skins, they can also be red, pink, purple and black tones when ripe. Their flavor and texture range with some varieties being sweet while others have starchier characteristics. It can also be harvested and consumed all year round. This delicious fruit are a favorite food for everyone from infants to elders. Bananas are easily available and inexpensive.
This curved yellow fruit is packed with nutritional values. Some scientists believe that the banana may have even been the world's first fruit. Bananas are said to cure blood pressure, asthma, heart disease, diarrhea and cancer. It can also enhance memory skills and boost someone's mood. This are the vitamins and minerals that can be found in bananas – Vitamin B6, Manganese, Vitamin C, Potassium, Dietary Fiber, Protein , Magnesium , Folate Riboflavin – Niacin, Vitamin A, Iron, Manganese, Biotin and Copper.
While bananas look supple, they're actually very delicate. They should be left to ripen at room temperature and should not be directed to overly hot or cold temperatures.
Bananas can be enjoyed eaten as raw or addition to a variety of recipe like salad and baked goods.
.
You might also like
How to Narrow a Wide Nose
Undergoing cosmetic surgery has become very popular and has been widely accepted by the public.  One...