Vacation Spots in the Philippines
posted by: Feby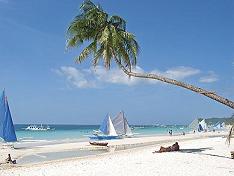 The Yuletide season is fast approaching.   It is a time for family and friends' bonding.   This moment should be cherished forever and finding the right place where you could have the quality moment is important.   Talking about the right place, I have only one place in my mind and that is the Philippines. This country has so many things to offer.
Philippines is a tropical island so it's one of the top travel destinations in the world.   It offers cheap and inexpensive vacation packages for everyone. You can visit famous beach resorts or try some cruises that would allow you to see the beauty of the place in a different way.
In this article I will definitely help you on how to find some vacation spots in the Philippines so you can plan your vacation ahead of time. Here are some vacation spots that you would want to discover.
Boracay Island. One of the best beach resorts in the world. It has white and fine sand and clear blue/green sea water with healthy marine life in it.
Bohol. It is known for chocolate hills and the smallest primate in the world- tarsier as the main attractions but there are so much more to offer like wide stretched beach resorts, dolphin watching, and falls.
Baguio City.  It is the summer capital of the country because of its cold climate. This is a great honeymoon destination as well as summer destination. It's good for weekend getaway with friends and family.
Palawan. It is one of the best tourist places in the Philippines which can give you the accurate definition of a paradise on earth. Discover virgin islands and see how mother nature nurture and landscape the place.
The Philippines has so many things to offer when it comes to vacation spots, you can read more about these places before actually landing your feet in one of the above mentioned spots.   Hotels and vacation rentals are not a problem in this country.   You can also try last minute vacation deals to avail discounts for a more affordable vacation experience.
Enjoy your trip!
You might also like