Best Vacation Spots for Toddlers
posted by: Rowena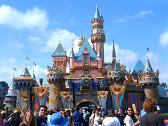 Enjoy a vacation together with your toddlers.  This may seem impossible but it isn't.  You may find it a difficult but with a little planning, you can have the best vacation ever with your kids.  One thing that you have to do is to make sure that your hotel room is safe for your toddlers. Here are some suggested toddler- friendly vacation spots.  Check them out.
Some of the Best Vacation Spots for Toddler
Disney World in Florida.  Infants out there would surely enjoy the beautiful and bright colors, the music and the food as well.  And who wouldn't want to meet Mickey and his friends? No one, I guess.  One thing that is great in here is that, toddlers get to enter into parks and can enjoy the food for free (kids under 2). T hey don't have height requirement either, toddlers can ride to whatever they want all day.  Some also have Disney Cruises program that offer wonderful activities for children.  Mickey's pool is one of the highlights of the ship, toddlers would surely enjoy this vacation idea.  They get to participate in the Magical Beginning Program offering wonderful attractions, entertainment and food that everyone in the family would love.  A great deal for parents out there, no worries, just fun.
Nickelodeon Family Suites in Orlando, Florida.  Vacation packages can help you in here.  You can have the Nickelodeon Family Weekend Package for instance if you plan for a vacation with your toddlers.  They would surely enjoy having breakfast with SpongeBob Square Pants and Dora the Explorer plus the other Nickelodeon Getaway activities.
Atlantis Resort in the Bahamas.  This beach resort offers plenty of rooms where toddlers could roam, beautiful water attractions too.  The place has more that 6500 cribs giving the kids extra comfort while on vacation.
Visit top places, travel to wonderful destinations that offer good services not just for you but also to your preschoolers.  Plan everything so your kids could participate with full of energy to different activities let it be their greatest vacation ever.
You might also like