Do you Need Visa to Go to Korea
posted by: Gretchen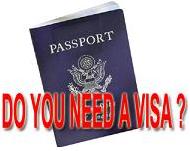 If you are planning for a vacation abroad that includes visiting South Korea, you may want to ask if you still need a visa to get there.  There are factors that determine if you need a visa.  These factors include your nationality, your purpose of visit, and how long you will stay there.   But before we talk about if you really need a visa in going there,  let's try to know the definition of visa first.
What is a Visa ?
A travel visa is a document that gives someone permission to travel into a specific country and stay there for a certain period of time.  They may be stamped directly into your passport or they may be given separately in the form of documents which should be kept properly.
Kinds of Visa
Tourist
Immigration
Work
Business
Student
Do You Need a Visa to Go to Korea ?
There are some citizens that do not need a visa at all to go to South Korea while some others need if you will be staying beyond a certain period and still others are required to get a visa no matter how short they will be staying in South Korea.
If you will be visiting South Korea for business and tourist purposes and you don't have plans to stay there longer than three months and are a citizen of the following countries, you will not need a visa but you will need passport of course.
Austria
Belgium
Bulgaria
Cyprus
Czech Republic
Denmark
Estonia
Finland
France
Germany
Greece
Hungary
Ireland
Latvia
Lithuania
Luxembourg
Malta
The Netherlands
Poland
Romania
Slovakia
Slovenia
Spain
Sweden
The United Kingdom
Antigua & Barbuda
The Bahamas
Bangladesh
Barbados
Brazil
Colombia
Costa Rica
Dominica
Dominican Republic
El Salvador
Grenada
Haiti
Iceland
Israel
Jamaica
Liberia
Liechtenstein
Malaysia
Malta
Mexico
Morocco
New Zealand
Nicaragua
Norway
Panama
Peru
St. Kitts & Nevis
St. Lucia
Singapore
Suriname
Switzerland
Thiland
Trinidad & Tobago
Turkey
United States of America
If you don't see your country in the list then you will need a visa to visit Korea. You will need to bring your major credit cards or MasterCard for you to have convenience there. You can also bring some cash.
For further inquiries, visit the Korean Consulate in your place and get the necessary information that you need.
You might also like
Korea Mania
Ever wondering of visiting South Korea? With the increasing  influx of Koreans going in and out of...

How To Get A Korean Visa
South Korea is in Eastern Asia . It is one of the  Asian countries who required Visa to Filipinos...