Best Time to Travel to Saigon
posted by: Gretchen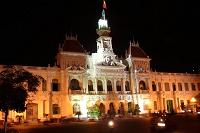 Are you planning to fly to Vietnam and experience its culture?  Why not? Vietnam is a world where the history is more convincing, where the landscapes are bolder, and where life is lived in the fast lane.  Vietnam is the latest dragon to awake from its sleep.  Vietnam is very blessed with beautiful mountains, radiant rice fields, and a killer coastline.  Go to Vietnam and experience these splendid things.
One of the most popular cities in Vietnam is Ho Chi Minh City (formerly Saigon).  It is actually the largest city in Vietnam.  Saigon is divided into 19 urban and 5 rural districts.  It is also the financial and economical capital of Vietnam.
Why Do People Choose Ho Chi Minh City ?
The contrast between the old and new is one of the things that attract tourists to go to this city.  This city makes a perfect base for exploring Mekong Delta, one of the known tourist spots in Vietnam.
What to see in Ho Chi Minh City
Cholon (Chinatown): Feast your eyes with the Chinese architecture.
Ben Thanh Market:  It is a good stop for souvenirs like handicrafts and T-shirts.       The market is well-organized so you can choose items well.
The Saigon Opera House:  This Opera House is also known as Ho Chi Minh Municipal Theater.  It is a very elegant building and it is close to the famous Notre Dame Cathedral.  It also stages performances in ballet, Vietnamese traditional dance and plays, and musical concerts.
The Quoc Tu Pagoda:  Tourists are welcome to see the beautiful shrine and Buddha statues.
When is the Best Time to Travel to Saigon ?
The best time to visit tropical climate zone is from December to April.  This is the dry season.  This is the best time of the year to enjoy your vacations in Vietnam.  Do not take schedule your flights in May and November because of the heavy and long rains.  Avoid traveling to Saigon during holidays because there are no cheap tickets.  The hotel rates can get pricey, too.
I hope that this simple travel guide to Saigon, Vietnam.  Have a great vacation ahead!
You might also like