Best Time to Travel to Kota Kinabalu
posted by: Gretchen
Experience the wonders of Malaysia by visiting one of its prides, the beautiful City of Kota Kinabalu, capital city of Sabah, Malaysia.  It is one of the beautiful cities in Malaysia, next to Kuala Lumpur and Kuching.  Before we talk about the best time to travel this place, let's have a taste of its background first.
The City of Kota Kinabalu is located on the tropical island of Borneo, west coast of the "Land below the Wind" under the watchful eye of grandiose Mount Kinabalu. You can find here the international airport, world class hotels and restaurants, business districts, and shopping malls.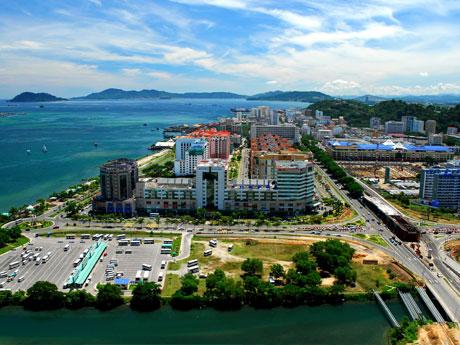 Things to do and see
There are many things that can interest tourists here.  You can find a world class sailing marina and golf courses.  Tunku Abdul Rahman Park is one of the top tourist destinations. It is perfect for relaxing, snorkeling and other exciting water sports. Another spot to visit is the Signal Hill Observatory which offers a bird's view of the city.  So if you love birds don't miss the place. Visit also Sabah's highest tower, the Sabah Foundation Building to see its unique structure.  The State Mosque which is the central place of worship for Muslims in Kota Kinabalu is also one of the tourist spots in the city.
Weather
The city has equatorial climate with uniform temperatures and a high level of humidity.  The best time to visit Kota Kinabalu is from the months of January to March.  During these months, the climate is cool and dry so it is more comfortable to see the beautiful sceneries and do outdoor activities.  The months of April and may can get really hot and humid so this is not the best time to take a flight to Kota Kinabalu.
Now that you have information about Kota Kinabalu why don't you travel to Malaysia and see the capital of Sabah? Getting to Kota Kinabalu will give you an experience that you won't regret and forget. You might also want to consider a travel to Kuching. For you to have a well-planned vacation and travel to Malaysia and Borneo, consult travel agencies to guide you like Jasmine Travel.  Enjoy your trip to Kota Kinabalu!
You might also like