Best Places for Bachelor Party
posted by: Gretchen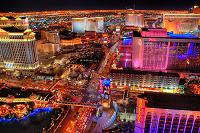 Wow, your best buddy is getting married soon!  Is he really ready to surrender himself to his honey? Well, good for him.  But before he finally settles down, let him enjoy the last days of being a bachelor.  Why don't you prepare for a bachelor or stag party for him?  It's going to be a lot of fun for you guys.
If you want to suggest party destinations or plan to surprise him for a stag party, then you need to find out what the best places to go and have it.
Below is a List of the Best Destinations for a Bachelor Party
Las Vegas, Nevada:  One of the best spots for a bachelor party is the Sin City. It has plenty of night and strip clubs and casinos which are really meant for you guys.  Try the different forms of entertainment offered by the big hotels and resorts in Las Vegas.  The city is going to rock your world.
Chicago, Illinois:  Just like Las Vegas, Chicago also offers a wide range of exciting activities for you.  One of the best places to have your party is called VIP's: A Gentleman's Club.  You will be amazed by its topless dance.
Vancouver, Canada: Get ready to rock with celebrities at Canadian Hollywood.  It also has Granville for you to meet beautiful people to make your party even more exciting and thrilling.  If you want to have fun with bachelorettes, check out Roxy Night Club.
Manhattan, NYC:  New York knows how to make your bachelor days fun. Rock the best bars and clubs in Manhattan.  You can also think of interesting games and other party ides to make the party even more electrifying.  The Big Apple is one of the best locations if you really want to have fun.
Cabo San Lucas, Mexico:  If you want to have your party in Mexico, then go to Cabo San Lucas and search for the best clubs and places where you can celebrate your last day of bachelorhood.  You'll forget the worst places that you have ever been.
Mexico, USA, and Canada are the best countries to have your bachelor party. If you receive invitations from these places, don't think twice.  Go and enjoy life! By the way, Seattle also has Cowgirls Inc. which is one of the best places to have your party.
You might also like