Dating with a Married Man – Dating Guide
posted by: Gretchen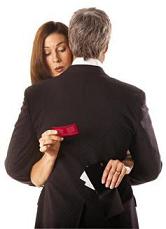 People say that love is blind.  Is it really blind or you are just blinded by what you feel and see?
Many people cannot control their emotions when they fall in love.  They let their heart rule over their head.  They tend to become selfish instead of giving selfless love.  They don't care what other people say about them for as long as they are happy.  Sad to say, there are people out there who can be an accomplice in wrecking a happy home.  They date with married men and women. Well, maybe love is really like this.
In this post we are going to deal with some dating tips on how to date a married man.  I'm not in favor of this kind of game but I just want to help those who can't help but love a married man.
Dating with a Married Man Tips
Bear in mind that you are in a chaotic situation.  Do not forget that he's married and he has a family.  He has to go home and leave you.  You get to sleep alone at night.
Don't be so demanding.  He is attracted to you but you are not his world. You're just an option for him. If he can't be with you on weekends or on days that you like, then don't overreact.
Show a wide room for understanding him.  Express your love in words and in actions.  When he's with you, make the most of it.  Act as a loving wife if you must.
Sleeping with should be avoided to make the situation lighter.  Think of his wife and children.  Try to put yourself on their shoe.
Let him come to you and don't chase him.  Let him set the date time.  If he gets annoyed he might leave you.
Avoid asking questions especially when you expect him to give answers that you won't like.
Enjoy every moment with him.  Avoid nagging.
Having an affair with a married man is not easy.  If you can escape from it, make it as soon as possible.  Don't be a home wrecker. Respect his marriage. Have some delicadeza.  Don't ruin your good future with a single man.   There are a lot of available men out there.  Maybe he's just your crush and it's not really love at all.  Loosen the string that attaches you with him. Saying goodbye will be a hard thing to do but it will be worth the pain.  Living with a married man is complicated. It will become more complicated each day. Breaking off the relationship is the best thing that you can do.  My friend who broke up with a married guy is now happily married with a very good guy. Think about it.
You might also like