How to Add Email Addresses to BlackBerry
posted by: Rio Dianne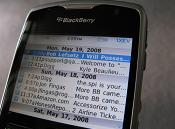 Among the incredible devices available in the mobile phone market is the BlackBerry smartphone.  With the handset's primary reason which is to keep you in touch with what is going on while you're on the run, the BlackBerry smartphone is just really ideal and it's no wonder that more and more people are actually purchasing one for themselves.  If you're a new user of the handset then, you might be asking how to add Email addresses to Blackberry phone. We'll, here is how you can make it so read on and start adding addresses to your device to use webmail and keep you posted even though you're too busy stuck at home or in your office.
How to Add Email Addresses to BlackBerry
Before you can add and put other people's contact including their mailing address, you need to make and create an account first.  This can be done either right from your device or through your BlackBerry Internet Service (BIS).
Once you've set up an account, start adding email addresses to your device by clicking the scroll wheel to be able to select the "ADD EMAIL ADDRESS icon.  Take note that an email field will pop out which allows you to enter the address that you want to add.
Open your BB address book and see your contact addresses to add email address easily.
Select CONTACT in your address book and then click on ADD EMAIL ADDRESS.  You can also choose EDIT if you'd like to edit an existing mail.
Enter the address and then click the scroll wheel to SAVE the email address you've entered.  You can have multiple entries for this, but always remember to save what you've entered.
And this is how to add Email addresses to BlackBerry.  The steps are so simple that you'll be able to do this in no time.  Good luck!
You might also like