What to Do if your Girlfriend is Pregnant
posted by: Gretchen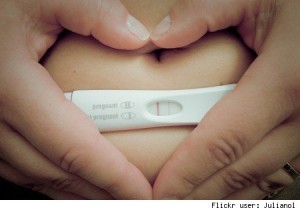 Pre-marital sex is very rampant nowadays. Teenage girls and boys who are into a relationship or even those who are not into a relationship engage in sexual intercourse. Some do it out of love and that they just can't fight their intense feeling for each other; others do it out of curiosity. Unfortunately, they don't practice safe sex. They do it without thinking of the possible consequences like pregnancy. Teenage pregnancy is now everywhere. When a teenage boy got his girlfriend pregnant, he becomes coward and tries to escape from his obligations as a father of the baby. Some teens who get pregnant become depressed, moody, and frustrated because of their pregnancy.
Your girlfriend is pregnant, now what?
What should you do if your girlfriend gets pregnant? Take a look at the following pieces of advice.
Everyone knows the fact that you are not ready to become a parent but the baby is there already. You cannot just get rid of him just like that. Don't think that abortion is the answer. It will only create a bigger problem. Aside from it is morally wrong (because you kill your own flesh and blood), it is also dangerous to the mother's life.
Stay calm so you can think well. Your girlfriend or fiancée is much more confused. One needs to be calm and strong.
Show your support. Take the responsibility because you did it. Your girlfriend is going trough emotional and physical changes and your support will make a big difference. Be there when she needs you, especially during her labor.
Grow up and face your responsibility as a father and boyfriend. If you can't be a husband, at least be a father to the baby. Don't be selfish and never leave the woman hanging. She didn't make the baby by herself.
Tell your parents because they deserve to know hat is happening to your life. In times like this, the support of your parents is badly needed.
Although pregnancy is not a good reason to get married, you need to consider it especially if your culture frowns upon pre-marital pregnancy. You need to come up with a rational decision. Ask yourself if you can be a good husband or your girlfriend can be a good wife considering your ages and situations.
Keep your promises to your girlfriend. Do what you say you will. Don't make her feel upset and sick. Think about your baby's welfare. You don't want the baby to be unhealthy, do you?
There you had some things that you can do in such situation. Killing the baby should be your least option to solve the problem. Face the consequences of your actions and learn your lesson. After all, your baby is a blessing. Be thankful.
You might also like
How to Date a Bad Boy
It's funny but most good girls fall for bad boys.  They simply can't resist the charisma of bad...