How to Date a Police Officer
posted by: Gretchen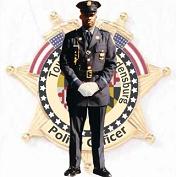 Being a girlfriend or wife of a police officer takes a lot of courage.  Your man's life is at risk because he deals with crime and he works long hours.  He has confidential tasks that he cannot just tell you.  You cannot talk about those things at home.  But you cannot do anything about it.  That is his occupation. He loves his job and you simply have to accept it and live with it.
Guide when Dating a Police Officer
How do you make your relationship with a cop, a lawyer, or a law enforcement officer a healthy one? Read the following dating tips and learn:
Be a strong partner or girlfriend.  He doesn't need a needy or clingy partner because his job demands his time and devotion. He has many things to look after. Instead of complaining because he comes home late, know his reasons first. Show your moral support.
Learn how to comfort your policeman.  He has a stressful job and he needs to be relieved from it.  Don't be insensitive.  Offer him a massage or anything that will give him relaxation. Cook for him.  Prepare something that would comfort him. Know his favorite dishes.  Exert some effort. It isn't a bad idea, right?
Learn to be independent.  You cannot always count on him because of his assignments.  His job requires much of his time.  Don't be jealous of it. Just be understanding.  After all, you chose him to be your man. This dating advice works effectively.
Have a wide room for patience.  You may experience cancellation of dates or plans because of emergencies at work.  You may feel that you are not his priority but the truth is he is just doing his job as a sheriff.
Don't be very emotional.  Be tough.  Danger is a part of his job. Pray for his safety instead of being hysterical because you will never find peace if you are not tough.
Relationships do face obstacles.  If you can overcome them, you'll live happily ever after. Now, should you date a policeman or a female police officer?  Why not?  Enjoy the fun of dating a police officer!
You might also like
How to Date a Widow
Having the chance to love again after losing a spouse is such a wonderful thing.  To love and be loved...