Overkill? Pedicab Driver Shot Dead Even If He Already Surrendered To Police
posted by: ofri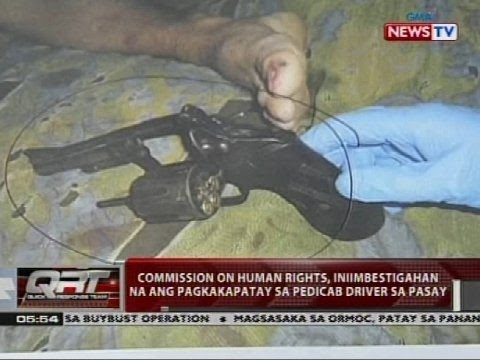 A alleged drug user in Pasay  was shot dead after a drug operation lead by PNP Pasay Police  ( Philippine National Police ) afternoon Tuesday August 22.
According to witnesses the shooting was an overkill .The police shoot Eric Sision a pedicab driver at close range several times even if he already surrendered to them. He was proclaimed dead on the spot.
A couple of dried marijuana and a revolver was recovered in the scene which was allegedly use by the suspect after a long chase with the authorities in Titanic Street Pasay.
Eric's wife couldn't hide her dissapointment and ire with the Pasay police officials which she said that her husband is not drug user . The suspect's family claimed that Eric was about to surrender after being caught hiding in a neighbor's house by the police. The suspect`s brother said that he tried to help Eric to concede before the shooting but he heard several gunshots and run away instead
The police officials in the other hand told the media that the suspect has resisted and was about to shot with his revolver  but was abruptly prevented by them and killed the suspect in the operation.
You might also like