Vice Ganda Took Revenge on Arnold Clavio – Vice Ganda's Phone Interview Spoof Video
posted by: Dennis Aguilar
Arnold Clavio is now trending on social networks like facebook and twitter after his very rude unprofessional interview with Alfredo Villamor – Janet Napoles' Attorney on Unang Hirit. If you haven't read my post about Arnold Clavio, here's the link on my post with video.
Now, One gay just took revenge and he thought this is his right time to get even to Arnold "the arn arn" Clavio. His name is Vice Ganda.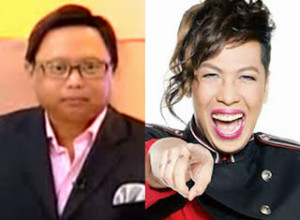 Vice Ganda if you could remember on his concert got a lot of negative reactions from people both online and offline just this month of May this year when he made fun of Jesicca Sojo – the respected veteran broadcast journalist on GMA. One of person he got a negative reaction from was Arnold Clavio.
"Bakit mo binibiktima ang mga taong seryoso sa trabaho nila?"
(Why are you victimizing people who are serious about their work?),  he asked.
Now the Gay felt so itchy, he couldn't resist getting back at rude reporter and also the opportunity for his fans to bring his up. On Wednesday episode of Showtime, Vice Ganda spoofed Arnold's Clavio's controversial phone interview acting as if he was talking to one attorney, exactly the way Arnold threw his controversial rude lines at Attorney.
Watch the Video below:
Although I didn't like Arnold Clavio on what he did, Im not supporting Vice Ganda's on how he was making fun of the reporter. Now, he is again in his "sarcastic style of comedy", making fun of other just to make people laugh. Remember that he got a lot of negative reactions just recently from people when he made fun of one respected journalist -Jesicca Sojo. He should have learned from that experiece, stop what he is doing and change his style of comedy. Just like Mang Dolphy, Panchito and Babalu brought laughter to us when they were still alive.
What is your opinion on this? Don't forget to leave your comment below.
You might also like