Arnold Clavio Apologizes to the Public for his Rude Interview on Attorney(Video)
posted by: Dennis Aguilar
Arnold Clavio has been tagged as "bastos/rude" this past few days after his rude interview on Janet Napoles' Attorney Alfredo Villamor when he said "Pansira ka ng araw eh", "tatawa-tawa ka pa".
Just this morning, Arnold tried to explain why he became rude during the interview. He said that at the present Attorney Villamor is the only one who could shed some light about some issues regarding Janet Napoles' case.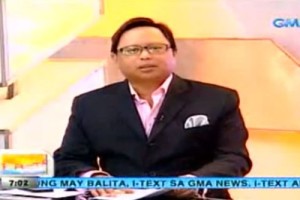 He said that he as badly as we viewers want to gather information regarding those issues caused him to cross his boundary. Expecting so much that he could get something from the Attorney and then at the end felt dissapointed caused him to lost his temper and became the Arnold "the bastos na reporter" Clavio. And now he is asking for the people to understand him for what he did.
Even though he apologized, seems like the people are not accepting his apology. Because most people said that on the video, Arnold didn't like as if he was asking for apology but more likely justifying why he acted like that.
Watch the Video Below:
Here are some of the comments I saw on youtube:
---
"What's the point of this conversation if He didn't even ask for Sorry -_- Haven't you realize his whole thought in this statement ? Well its just that He compared himself to us then trying to tell that he didn't do anything wrong .

---

"humingi ako ng unawa" does not translate to "i apologize." it translates to "i'm asking for understanding" which means not saying sorry. His statement was STILL ARROGANT."

---

"It's not even an apology. "Humihingi ng unawa" and "humihingi ng paumanhin" are two different things. He merely wanted us to understand his point of view. Wala rin nakuha sa kanya."

---

"Dear GMA, we want a suspension for mr.clavio, PANIRA SYA NG ARAW EH.!!"
---
How about you? What can you say about his apology? Don't forget to leave your commment below.
You might also like