Davao Explosion Left Many Dead And Injured
posted by: ofri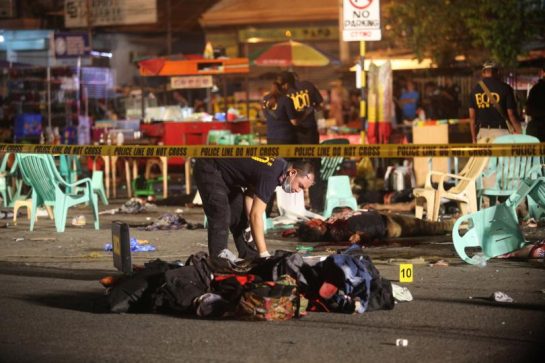 An improvised explosive device was used in a recent blast in Roxas Avenue night market according to Davao city authorities. As of the writing 14 people were reported dead and 70 people were injured  evening of September 2.
Davao City is now in heightened alert and had imposed increase security measures putting up more police patrols and checkpoints in different areas. President Rodrigo Duterte had visited the victims in Davao hospitals and inspected the crime scene early morning today. He also declared state of lawlessness in the city. Terrorist group Abu Sayyaf claimed responsibility after the said explosion.
Victims were rushed to the San Pedro Hospital and the Southern Philippines Medical Center for treatment.
Davao City  Mayor Sarah Duterte was also in Roxas to personally check the casualties even if she was advised by her doctor to stay home due to her sensitive health condition. She revealed that it was a continued threat against Davao since August and had escalated since the military operation in Jolo, Sulu earlier this week . She urged Davaoenos to stay calm,be vigilant and report any unusual and suspicious activities in their areas.
Daily businesses and night market  in Davao will still be open and operational despite the incident as per the Mayor.
You might also like