How to Write Upside Down on Facebook
posted by: Dennis Aguilar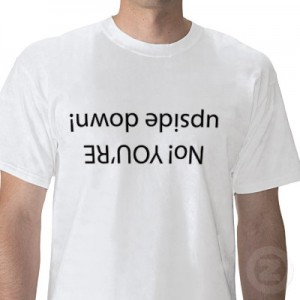 Have you ever wondered ʞooqǝɔɐɟ uo uʍop ǝpısdn ǝʇıɹʍ oʇ ʍoɥ ? (that's "how to write upside down on facebook") You've been asking your friends and they hide it to you and tell you it's a secret. Well, then let's spill the beans and find out how to write upside down text on Facebook so no one's going to be left behind, not even you!
Writing upside down on Facèbôôk isn't just fun, but it's a cool way to catch other people's attention especially those who are not paying attention to whatever you write. Actually, we can not only put these flipped words upside down on Facèbôôk but as well as on a couple of instant messaging sites like MSN, gTalk, and AOL. This is also becoming a trend in our most favorite sites apart from Facebook like Twitter, YouTube, and MySpace. Isn't it a clever way to spice up our online world?
So, how to write upside down on Facebook ?
Upside down Text
There are actually a lot of sites that offers you to flip your texts upside down. One is the https://www.fliptext.net. In this site, you'll be able to write a text normally and your text will be converted automatically into an upside down text. What you need to do is to copy the flipped text upside down and there! Paste it into your Facèbôôk status bar or on your wall post. This also works on different social networking sites.
Alternative on how to write upside down on Facebook
Another way on how to write upside down on Facèbôôk is to copy and paste the characters below individually.

However, doing this might be a little time consuming so I suggest that you browse our related articles to know more how to write upside down on Facebook.
Wow, just how cool is that, huh? Now, facebooking has become more exciting with the rise of a tool like this! So, what are you waiting for? Go ahead and entertain your friends with this new thing that you've learned.
You might also like
How to Date a Deaf Girl
Dating a girl with a physical disability is a pretty different thing.  The approach is far different...