Best Gift for Christening
posted by: Gretchen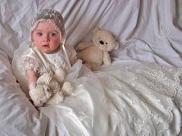 Your friend gave birth to a wonderful baby recently.  Now, they are preparing for the baby's baptism.  You are one of the godparents and of course it is expected that you attend the christening with a present.  However, the hard part is that you don't know which gift would be appreciated much.   First and foremost, you need to know the gender of the baby.  There are gifts designed for boys and there are gifts that are exclusive for girls.
What are the Best Gift Ideas for a Baby's Dedication ?
Here are some ideas on what to give the baby on his/ her christening.
Personalized baby quilts:  Give the baby something to give him/ her warmth.  It's one good gift.  For godmothers,  I am pretty sure you can make one.  Use your creativity.
Guardian angels:  Show that you care by giving angels to make the baby safe all the time.
Silver name bracelet:  If you are not on a tight budget, you can give the baby a bracelet with the name.
Crucifix necklace:  For Catholics, giving the baby a silver cross or crucifix necklace will be very symbolic and the parents will appreciate it so much knowing that this is very important to them.  The child can use it even when he/ she matures.
Tees:  Give tees that have angel or fruit prints.  You can give variations like tees that will be appropriate for special occasions or tees for everyday use.
Toys:  Educational toys are always a good choice for a child.  You can even give these on Christmas or birthdays.
Giving presents when you attend events like christening is a part of etiquette particularly for godparents.  You would also want your children to receive things, right?
You might also like
Best Gift for 1 Year Old
The loveable baby of your friend is turning one next month!  Of course as a close friend, you are expected...