Appetite Suppressant Food
posted by: Feby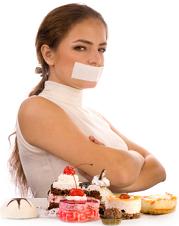 Losing weight is one of the most difficult things to do especially if you love foods.   It's not easy to just cut off the calorie intake especially when are used to eating a lot.   It takes one great determination and powerful goal to suppress your cravings and concentrate on your diet plan.   That situation is even harder especially if you have to eat out on a restaurant and when you are inside the grocery stores.  And because of this we need something just like appetite suppressant food to overcome overeating.
It is important that we learn about all natural appetite suppressants to lessen our hunger, so we could keep up with our weight loss program.  Here are some natural foods that really help suppress your hunger:
Chocolate. Are you shocked? Yes, chocolate can be an appetite suppressant. However, only dark chocolate can do this. Dark chocolate has this bitter sweet taste that helps you suppress your appetite.
Oatmeal. This can be a powerful suppressant because it is rich in fiber than can make you feel fuller that lasts.
Egg. It should be included in your breakfast because according to some researches, a person who eats egg in the morning has lesser food cravings later in a day.
Apple. It is rich in fiber and requires more time to chew and that helps your brain to realize that you're full and not hungry anymore, so you end up eating less.
Green tea. It is one of the drinks known to burn fat if you want to lose weight but not only that, it could be used as cravings suppressant because it can cause to release hormone responsible for limiting food intake.
Water. This is a non calorie drinks that can suppress your appetite. Drink water before eating or if you feel like grabbing a food.
However, if these foods don't seem to do the trick you can try food supplement pills like Hoordia Gordonii.   You can also try some GNC food supplement or Alli food supplement for weight loss.   They are not only food supplements but they have a program that helps you lose weight in no time.
You might also like