How to Make a Turkey Burger – Delicious, Tasty, & Healthy Turkey Burger
posted by: Dennis Aguilar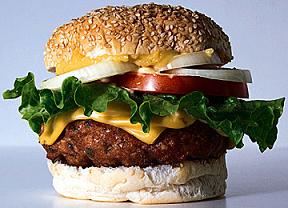 Are you tired of the usual burgers that you get from your favorite burger machine?  Do you want something new? How about a turkey burger ? Does it sound great or weird? Before you say anything why don't you try it first? You can even make a turkey burger right at the comfort of your kitchen!  I bet you will say no to beef burgers after eating one.
If you are interested to know how to make a juicy and good turkey burger, then pay attention to the ingredients that you have to prepare first. They are listed below.
3 lb ground turkey
¼ cup seasoned bread crumbs
¼ cup finely diced onion
2 pieces of lightly beaten egg white
¼ cup chopped parsley
1 clove peeled and minced garlic
1 teaspoon salt
¼ teaspoon ground black pepper
Sliced pepperoncinis
How to make a turkey burger
Follow the quick steps to make a delicious, tasty and healthy turkey burger.
Mix together all the ingredients (ground turkey, seasoned bread crumbs, onion, egg white, parsley, salt, pepper, and garlic in a large bowl except the buns.  Shape the mixture into patties 91/2 inch thick).
Put the patties on a sprayed broiler pan.  Broil in an oven for about 10-12 minutes.  You can also cook them on a grill.
Toast the buns lightly.  Then put the cooked turkey patties on buns. Serve it with your favorite toppings.
Isn't it easy to make it ? It's pretty similar to the steps on how to make a chicken burger or homemade beef burgers.  To have most and tasty, add enough moisture to replace the fat they lack.  For Greek turkey burgers you will need same ingredients with slight variations.
Turkey burgers are good substitute for fatty burgers like beef burgers so go for them and be healthy.
You might also like