How to Cook Tokwa't Baboy – Tokwa't Baboy Recipe
posted by: Feby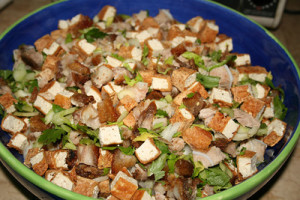 When I was still a child, I remember how strict my mom was when it comes to the food I eat. She made sure that the food I put inside my mouth is clean. Because of this, she would really find time to cook our food. One of my favorite Filipino foods that she makes is tokwa't baboy. We usually pair it with Arroz Caldo or porridge. Such a perfect combination, indeed!
Since Tokwa't baboy is one of my favorite foods, so I asked my mom to write down the things I need and the steps on how to make it. Here is how to cook Tokwa't baboy:
Tokwa't Baboy Recipe
Ingredients:
500 grams of pork liempo and belly ears
4 slices of tofu ( tokwa)
1 cup of vinegar
¼ cup of soy sauce
4 tablespoons of brown sugar
Pepper corn
Onion
Stalks of green onion
Black beans or tausi
Water
Cooking oil
Salt
Oyster sauce
Cooking Procedure:
In a cooking pot, put the pork, water, pepper corn and salt. Bring to boil. Cook the meat until tender.
Once cooked, remove from pot.
Let it cool for a bit. Slice into serving size.
Set aside.
In a frying pan, heat cooking oil. Deep fry the tofu.
Place it in a plate with paper towel.
Let it cool and slice.
Set aside.
For the sauce:
Heat the pan; pour in the soy sauce, vinegar, oyster sauce and black beans. Boil or simmer for few minutes.
Add sugar. Stir well and blend well.
Turn off the heat. Remove from pan and put it into a bowl.
Let it cool then put onion and the stalks green onion.
In a serving plate, combine the pork and tofu. You may pour the sauce into it or serve on the side.
If your mom is like mine or you are like my mom who doesn't trust the preparation of food outside your house but you want to try this kind of dish, then just simply print this recipe out and follow the simple steps above for you to experience the goodness of it. This recipe is best with plain porridge, goto and arroz caldo.
You might also like
How to Cook Adobong Baboy
Filipinos are fond of discovering new dishes, adapting and creating variations to every recipe. That...