How to Cook Boiled Pork with Vegetables ( Nilagang Baboy)
posted by: Feby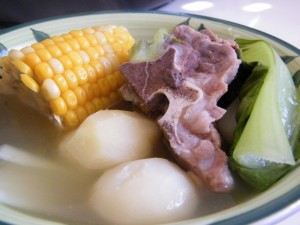 Boiled meat with vegetables is one the easiest recipes that Filipino cook and serve at their dining table. You can choose different meat and vegetables to complete this Filipino dish. Boiled meat is also known in tagalong as nilaga. You can have nilagang baka (boiled beef) or nilagang baboy (boiled pork) to choose from on chilly and rainy days.
Boiled pork with vegetables is always a good choice to cook because it is cheaper and quicker to tender compared to beef. Anyway, here's a guide on how to cook boiled pork with vegetables.
Boiled Pork with Vegetables (Nilagang Baboy) Ingredients:
500 grams of pork ( belly or ribs)
2 medium sized potatoes, quartered
1 medium sized cabbage, quartered
¼ cup of ginger, sliced
1 big onion, sliced
¼ tablespoon of peppercorn
Salt/ fish sauce
Water
Cooking Procedure:
First, put water, onion, ginger and peppercorn into the pot. Bring to boil.
Next, add the pork and simmer until the pork is almost tender. Season with fish sauce or salt.
Then, add potatoes. After five minutes put the cabbage. Cook for few minutes.
Finally, turn the heat off. Transfer boiled pork with vegetables in a bowl. Serve with steamed rice and fish sauce with calamansi juice on the side.
As you can see, the ingredients and cooking procedures are very handy and easy, so you don't need an expert hand just so can try this at home. You may serve this recipe or Filipino dish on family day or anytime you want to.   This is also so perfect to warm your cold days and nights.
You might also like
How to Cook Adobong Baboy
Filipinos are fond of discovering new dishes, adapting and creating variations to every recipe. That...

How to Cook Dinengdeng
Dinengdeng is an authentic dish from the Northern part of the Philippines. It is one of the dishes and...