How to Cook Sopas with Corned Beef
posted by: Gretchen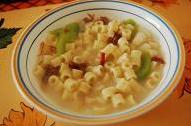 Filipinos love to eat.  Filipinos are also creative enough to come up with new dish recipes.  Filipinos can play well veggies and meat maybe because the passion is there.  Cooking has been a part of every Filipino.
In this post we are going to talk about one of the favorite Filipino food recipes for snack or breakfast.  It is called sopas, a soup recipe.  Every Pinoy/ Pilipino knows this.  This is a budget-friendly recipe and it's very easy to cook. Anyone can do it.  vTake a look at the following instructions.
This version of sopas will require you to prepare a can or two of corned beef, hotdog, and mixed vegetables.  For the veggies you can have cabbage, carrots, beans, or lettuce.  Using corned beef is an alternative ingredient to chicken or pork.
Prepare the following ingredients of sopas with corned beef:
Sopas with Corned Beef Ingredients
3 cups macaroni
200 grams corned beef
4 pieces of jumbo hotdog
1 cup mixed vegetables
5 cloves of minced garlic
1 medium sized chopped onion
¼ cup patis or fish sauce
¼ cup evaporated milk
Salt and pepper
Cooking oil
Cooking Procedure
In a pot boil 10-12 cups of water.
Salt the water and add your macaroni pasta and simmer for 30-45 minutes or until tender and soft.  Add more water if necessary.
In a pan, sauté garlic and onion.
Add the sliced hotdog and corned beef in the pan. Cook for 2-4 minutes.
Now add the hotdog and corned beef to the macaroni soup and simmer for another 3-5 minutes.
Add the vegetables and cook for another 3 minutes. Season with salt and pepper. Add the evaporated milk and cook for 3 minutes.  You don't need to broil it.
Consume immediately.
There you go!  It's pretty easy, right?  How about trying it?  It's healthy!  You don't need expensive ingredients.
You might also like
How to Cook Chicken Adobo
Filipinos are not only known for being hospitable but also how they love to cook food and eat.  Filipino...

How to Cook Chopseuy
Chopseuy is one of the favorite dishes of Filipinos.  A recipe which is simple and effortless to prepare....