How to Cook Paella – Paella Recipe / Ingredients
posted by: Feby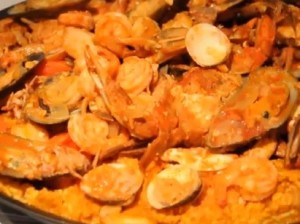 Do you wonder why paella recipe is called paella? Have you ever pause and think about this stuff? You may think that this article is ridiculous, but it's not.  Paella is a widely known dish in the Philippines which originated in Valencia, Spain and cooked in a wide flat pan which is called Paellera. Paella comes from the word Paellera or in a latin word patella which means pan. Interesting isn't it?
Paella is a combination of rice and seafood seasoned with saffron. Nowadays, different places have their own version of this food. It looks arroz valenciana but tastes differently. Paella is more expensive and delicate to prepare.
You might ask how to cook paella? Let me tell you honestly, you need great effort just to make this recipe. But anyway, practice makes perfect. So let's practice how to cook paella and how to make paella the easiest way.
How to Cook Paella
Ingredients:
500 grams of yellow rice ( seasoned)
250 grams of squid
250 grams of clams
250 grams of shrimps
250 grams of mussels
3 medium crabs
500 grams of tomato sauce
1 large onion
1 bulb of garlic
¼ cup of pimiento
2 cups of water
Cooking oil
Tabasco sauce
Saffron
Salt
Pepper
Cooking Procedure:
Soak the seasoned yellow rice with water for about two to three hours. Set aside.
Heat a large flat pan; put cooking oil and sauté onion and garlic.
Next, add the mussels, crabs, clams, shrimps and squid. Stir and fry. Add salt, pepper and Tabasco sauce. You may now cover the pan and cook the seafood until they produce juice.
Then, once you can see the juices come out from the seafood, put the tomato sauce and simmer for few minutes. Stir and remove the seafood from the pan and set aside. (Leave the juice in the pan).
In the same pan, where the seafood juice was left, stir the soaked rice and simmer for few minutes. Then, you may add saffron and stir it gently to the yellow rice. Cover the pan again and simmer until the rice is cooked.
Finally, transfer the cooked yellow rice into a large serving plate. Garnish it with pimiento on top and arranged cooked seafood.
Serve hot.
As you can see, this dish is quite expensive and lavish because of its ingredients. But once you tasted it, all efforts are worth it and you keep coming back for more. Try it for yourself now.
You might also like