How to Cook Fish Fillet – Fish Fillet Recipe Filipino Style
posted by: Feby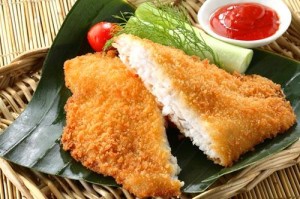 Are you tired of your usual recipe for fish such as steamed, fried or stewed? Why not put a twist on it to give your seafood recipe a new life. The usual way of cooking some dish can be so boring at times, not only for the one who eats it but also for the people who prepares it. So, it's important for us to experiment and try something new on our dish. You may try some ways from other countries and put a touch of Filipino style to make the dish more appealing to the taste buds of pinoy.
Today, I'm sharing you a new way on how to make your fish dish appealing to everyone's taste buds. The ingredients are not new and the procedures as well, so don't fret. This dish is so simple and easy to make. Let's start and learn how to cook fish fillet.
Fish Fillet Recipe- Filipino Style
Ingredients:
4 pieces medium sized fish fillet ( filleted Tilapia or surgeonfish)
1 pack bread crumbs
1-2 beaten eggs
2 teaspoons of Lemon juice
Butter
Salt and pepper to taste
Procedure:
Marinate the fish fillet with lemon juice, pepper and salt for about 10-15minutes.
Prepare the bread crumbs and eggs. Don't mix them. Place them in separate bowls.
Preheat the nonstick pan and melt the butter. Before putting the fish fillet into the pan, dip it into the beaten egg and roll it on the bread crumbs. Then fry until golden brown.
When they are done, place them in a clean plate with paper towel. Set aside.
For the Sauce:
2 cloves of garlic ( minced)
¼ cup of water
¼ cup of pineapple juice
2 tablespoons of sugar
1 sliced Jalapeno/ Chili * optional
1 tablespoon of cornstarch ( mix with a little water)
Butter
Pepper and salt to taste
Procedure:
In the same pan, brush a little butter and sauté garlic until golden brown.
Add the chili, pepper and salt into the pan. Add pineapple juice, water and sugar. Mix well.
Then add the cornstarch. Stir until the mixture or the sauce is already thick.
Place in a clean saucer or small bowl.
Place the fish fillet in a clean plate and pour in the sauce on it. Or you can just dip the fish fillet on the sauce. Serve with hot steamed rice and a side dish like tofu or salad.
The procedure looks complicated and it seems but it will not take you more than 30 minutes to prepare this. You can serve this anytime you want. This recipe can help you save a lot too because it is cheaper compared to restaurants and fast food chains like Mc Donald's that serve this kind of dish.
So what are you waiting for? Grab your kitchenware and start cooking.
You might also like
How to Cook Chicken Fillet
What is so special about chicken meat? Maybe you are one of those people who ask this question when you...